Bacon Asparagus Pasta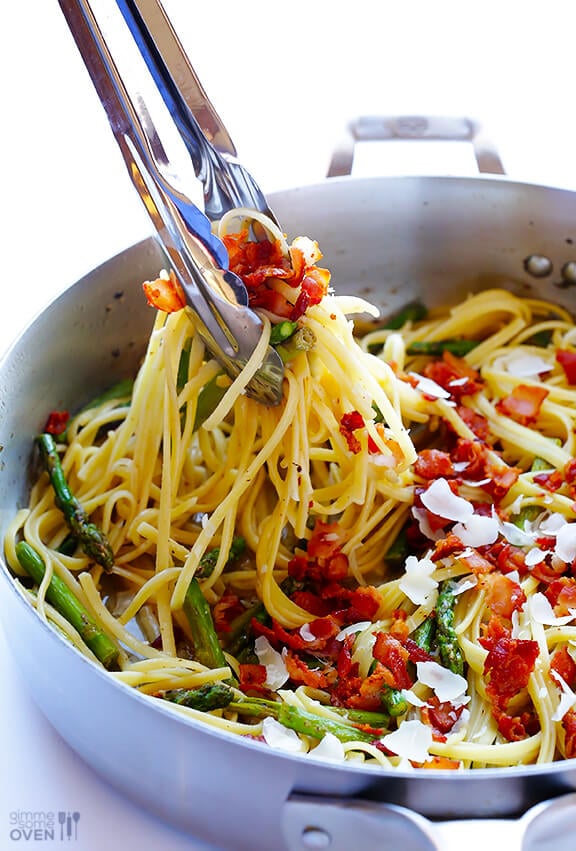 Ingredients:
1/2 lb. (8 oz.) uncooked pasta (I used linguine)
1/2 lb. (about 8 strips) uncooked bacon, diced
1/2 lb. (8 oz.) fresh aspagarus, ends trimmed and cut into 2-inch pieces
1/2 cup dry white wine (or you can double this if you'd like)
1/2 cup grated or flaked Parmesan cheese
Directions:
Cook the pasta in a large pot of generously-salted water al dente according to package instructions.
Meanwhile, add bacon to a medium saute pan. Cook over medium-high heat, stirring occasionally, until crispy. Remove the bacon with a slotted spoon and set aside.

Add asparagus to the pan and saute in the bacon grease for about 5-6 minutes, stirring occasionally, until cooked. Remove asparagus with a slotted spoon, and set aside with the bacon.

Slowly add the white wine to the pan, and scape the bottom of the pan with a spoon to deglaze the pan and pick up all of those yummy brown bits. Continue cooking for 5 minutes, or until the wine has reduced by about half.

When the pasta is cooked, drain it. Then add the pasta, asparagus, bacon and 1/4 cup Parmesan cheese to the saute pan, and toss until combined. Sprinkle pasta with the remaining Parmesan cheese and serve immediately.

*If the pasta seems too dry, add in 1/4 cup of the pasta water after adding in the asparagus and bacon and toss to combine.

**Doubled the quantities for food group. Used chicken broth instead of white wine

***photo and recipe from gimmesomeoven.com